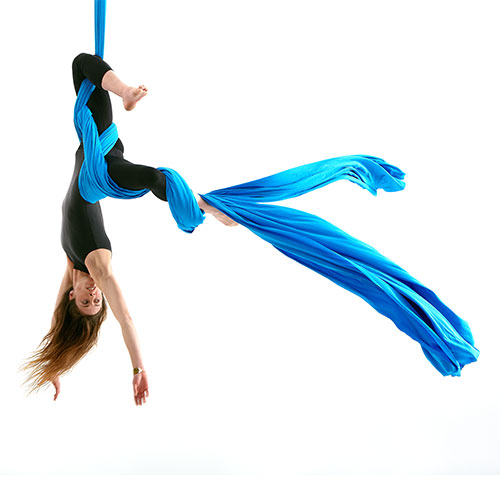 Aerial Silks: No experience needed. Learn the fundamentals of aerial silks and have fun while doing it. This class is an introduction into the world of Aerial Dance. This apparatus consists of two pieces of fabric that are suspended from the ceiling. Students of all levels of physical ability may take this class. The class will focus on your progressive development on the aerial silks while increasing your core strength and flexibility. Students participating in class will come from a wide variety of backgrounds from a beginner to an intermediate level. Students new to the activity will learn the fundamentals of the aerial arts, while intermediate students will continue to increase their skills, tricks and techniques combinations. We will work on developing strength, flexibility and coordination, as well as exploring the creative element of aerial dance.
Junior Aerialist: This is an Intro to Aerial class for ages 10-17.
Aerial Conditioning: This is a fun class that focuses on conditioning your entire body to build strength and increase flexibility in a supportive environment. If you are feeling slightly intimated by the silks but still want to try them, this class is an excellent place to start your aerial journey.  Our certified Instructor teaches foundational movement on the silks and helps to guide your body and mind through the kinetic movements required while in the air. Not only will you get a great workout but you will improve your silk progression. Students will not learn new tricks during these classes. COMING FALL of 2015
Aerial Privates: Take time to learn Aerial. Get personalized attention and time with our certified instructors as you learn at your own speed. This is a great option for students who want specialized classes, have time constraints or need a personal training experience. Do you and your friends need a private class? Schedule a time for your own private group class at a time that is best for you. Classes are an hour and we require 2 or more students to attend the group classes.​
Class Prices
$16 for first class
$18 for a single class
All classes are limited to 6 participants per class
Packages
5 classes for-$80, 10 classes for-$160
(Packages listed above have a 120 day expiration)
24 hour Cancellation is REQUIRED
Pre Registration is required and payments must be made online for Classes Privates may be paid by cash or check
Email: TripleThreatAerialSilks@gmail.com  to schedule Private/Semi-Private lessons with Candace or Sonja.
Private or Semi-Private Lesson
Privates and Semi-Privates for Adults and Kids:
Private (30 Min) $35
Private (50 Min) $60
Duets (2 people) 60 Min $70
Trios (3 people) 60 Min $80
Group (4 or more) 60 Min $100
24 hour Cancellation is REQUIRED